What is a station zone and how does it work?
Unlike a regular station located in a fixed location, a station zone is an area on the map visible in the Communauto app.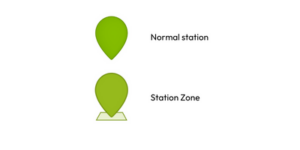 The perimeter of the station zone is small enough to be crossed quickly on foot.
Vehicles at these stations are parked on the street and can be anywhere within the zone boundaries. They do not have a fixed parking space.
The reservation
When booking your vehicle, you will only know the area where to find it.
Before starting the trip
Check the exact location of the vehicle in the mobile app before leaving. The vehicle will appear on the map up to 10 minutes before the start of your reservation (if it is already available).
At the end of the trip
When your reservation is done, simply release the vehicle within the station zone boundaries in a location that is not subject to restrictions. 
The vehicles also have residential parking permits, just like FLEX vehicles, so the same rules apply for on-street parking. Read the signs carefully. 
For more information, see the FLEX Parking Guide for your city. 
You can also find detailed information for each station zone in the info-station, accessible during the trip by clicking on the name of the station in the Communauto app.